Description
   Steel blinds are pipeline parts designed primarily to close end openings in pipelines.
    Blinds are also used for the production of tanks that work under pressure. The tanks include: boilers, apparatus vessels at the energy, oil, gas and chemical industries enterprises.
 These parts, depending on the method of fixing, are subdivided:
flanged;
interflanged;
flat welded;
rotary;
elliptical.
   The steel flanged blind withstands the temperature of the working fluid from -70 to + 600 °C. The flange blind is highly resistant to the influence of aggressive environment. Such pipe blinds are primarily relevant for oil and gas and chemical pipelines.
    In pipelines with a narrower temperature range of the working fluid, flat weld and elliptical blinds are used.
For each blind, it is necessary to determine the nominal pressure, as well as the nominal size..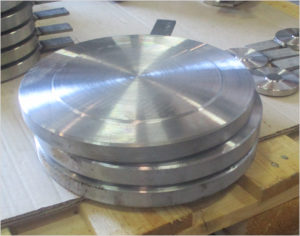 Nominal pressure

, РN (Ру), МПа
0,1 и 0,25
0,6
1,0-1,6
2,5
4,0

Nominal diameter

, Dy, mm
10-1600
10-1400
10-1200
10-800
10-500

Temperature

No more

 530° С
GOST 17379 elliptical blind is primarily used to complete shutdown end openings in pipelines. In addition, permanent or temporary pipeline shutdown prevents the transported substances from entering the external environment.
Pressure  РN (Py): до 16 МПа.
Medium temperature : from -70 before + 450°С.
Conditional pass: от 25 – 500 (outer diameter from 32 -о 530 mm).
Generally, blinds are made by stamping from various grades of steel. In addition, the choice of material depends on the material being piped. Stainless steel is resistant to corrosion in atmospheric and corrosive environments. The stainless elliptical blind has extra durability and resistance to corrosion.
We supply steel blinds in wholesale and retail quantities at the best price. In our company, you can also order GOST Flanges from various steels.
For all your questions, please contact our specialists:  8(812) 313-79-89, sale@zsd-silena.ru
We also manufacture and supply